When your child is young, their bones are still very malleable. You will know all about this if you ever broke a bone as a kid and it snapped more like a green twig than an old stick. Young bones can be pushed out of shape, or into shape, and when it comes to the jawbone, this can be a very useful thing.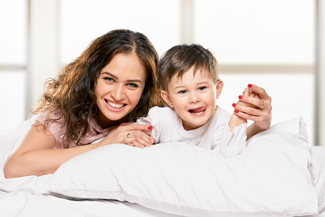 It's not uncommon for young children to develop jawbones that aren't quite the right shape to hold all their teeth in a straight arch. Sometimes this mis-shaping is just how the jawbone has grown. Sometimes, it's due to the fact that the child is doing something, like sucking a thumb, that is contributing to the problem.
The good news is that with the right braces in Kings Hill, at One Smile Oral Care, we can treat your child and make sure that they grow up to have a beautiful broad smile on a well-shaped jawbone.
Early check-ups
Modern dentistry is all about treating children with braces in Kings Hill while they are still young. This is a positive for a couple of reasons. Firstly, it means that we can solve any jawbone problems while the bone is still easily remodelled. Secondly, it means that we can guide emerging teeth into position, rather than having to reposition them once they have already come through.
If you have concerns about the position of your child's teeth, or the shape of their jawbone, it's a good idea to bring them along to us for a consultation from around the age of 5 years. If there is a problem related to an unhelpful habit, we can refer them to someone who can help them stop the habit before going on to treat the resulting dental problem.
We can fit your child with braces in Kings Hill and get their treatment done and dusted before they hit those dreadful teenage years when the last thing any kid wants to do is draw attention to themselves.
If you'd like to find out more about children's braces in Kings Hill, why not book your child in for a consultation with Dr Yasmin George?