Ask anyone if they'd like to get their wonky teeth straightened and they're almost bound to say yes. Ask them if they're prepared to go through a few months of looking odd because they've got braces on their teeth and it's surprising how many say no. People are very sensitive to how their teeth look and wearing braces as an adult is not something many are willing to do. It's understandable really. Braces are indelibly associated with being an adolescent; not a look a career-minded adult is after. However, there is a way round this conundrum and we have it here at One Smile Oral Care in Kings Hill: Invisalign.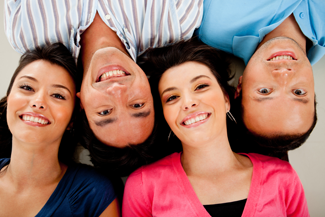 You may never have seen people wearing Invisalign in Kings Hill. That's because this way of straightening teeth is so discreet as to be as good as invisible. Hence the name: Invisible Alignment.
Why so hard to see?
Invisalign is different from traditional brackets and wires fixed onto the front of the teeth. These devices look more like ultra-thin mouth guards when you hold them in your hand. They hug the teeth very snugly, coming all the way up to the gum line and because the plastic is so thin, only 0.3mm, once they are in situ, they are very hard to spot. They also don't interfere with speech or with eating.
Why so easy to eat?
That's the other big plus with Invisalign in Kings Hill. These devices come out. In fact, you have to take them out to eat food and drink anything that is not plain water. If you didn't, the plastic would become discoloured and therefore visible over your teeth. This means that you can eat whatever you want without having to worry about picking food out from behind brackets and wires, or indeed, breaking your device. Then you just brush your teeth and put the aligner back in. As long as you wear your aligners for at least 20 hours a day, you will stay on track with your treatment.
Why not book a free consultation with us at One Smile Oral Care to find out more about Invisalign in Kings Hill?