Do you have crooked or crowded teeth? One too many unsightly gaps between your teeth? Or perhaps all of the above. With advances in dental technology you can now welcome a future with straighter teeth without the inconvenience of wearing fixed metal braces. At One Smile Oral Care in West Malling, Invisalign technology can give you the smile you've always wanted minus the experience of metal wires and brackets being stuck to your teeth.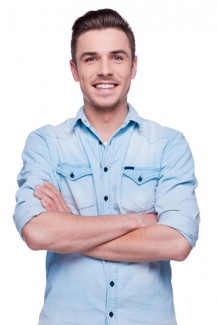 Straighten up today
Crooked teeth don't just affect your facial appearance, they also impact your dental health. Straighter teeth are easier to clean and rid of bacterial build-up than crooked teeth, which reduces your chances of gum disease and infection. So getting them straightened with Invisalign in West Malling will bring you more than just cosmetic benefits.
Invisalign: what's it all about?
Using clear acrylic material, Invisalign aligners are formed into moulds that snugly fit around your teeth. Their near invisible appearance means the untrained observer won't even notice you're wearing them.
Invisalign clear aligners are custom made to meet your specific dental needs, gently nudging your teeth to achieve the best possible aesthetic outcome with minimal discomfort. Every two weeks you will need to replace your clear aligner with a new one that will shift your teeth along that bit further. Through a series clear aligners, you will achieve straighter teeth without the hassles of fixed metal braces.
You won't need to worry about food getting stuck between your braces and your teeth or deal with the intricacies of brushing your teeth with a bunch of wires and brackets in the way. Invisalign clear aligners are removable, giving you the freedom to take them off when you eat, brush and floss.
Why choose us
Giving you a confident smile is at the heart of our practice in West Malling. Invisalign is designed to meet your dental needs by our highly trained and experienced dentists. We ensure you receive high quality dental care with a personal, friendly approach that will put you at ease. We are always happy to answer your questions and welcome you to get in touch via phone or email.