Braces are needed any time the teeth have become poorly aligned and need to be corrected. A poor arrangement of teeth can have extremely negative effects on your dental welfare, causing tooth erosion and jaw problems over time. If you are looking for braces in Kings Hill then we will be able to provide you with a range of braces which will fit each individual need.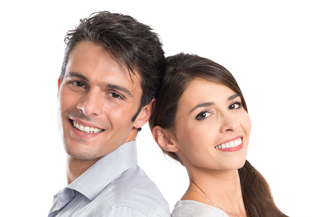 Will I need an orthodontist?
An orthodontist is simply a dentist that has specialised in jaw and teeth alignment. Our practice will ensure that you get the best possible service, and that there are no surprises or misconceptions with our treatments. We offer orthodontic treatment for adults and children alike, so there is no need to go elsewhere for separate treatments.
What types of braces in Kings Hill are there?
There are many different types of braces, all serving a different purpose. After your consultation, we will recommend a style of braces that we believe will be best suited to you. There are many options based on aesthetics too, as we understand that particularly for adults, fixed metal braces may not be the most desirable option. We have Invisalign treatment available, along with transparent and other forms of invisible braces, so you can continue your life without having to worry about comments on your teeth.
Fixed Braces
The most common and widely known braces are the fixed braces, which involve metal wiring being passed through holds fixed to the enamel, and tightened, in order to realign the teeth. This method is one of the most effective, however it can carry some downsides with it. The braces can be uncomfortable, and can cause damage to the gums, and due to the speed at which the teeth are corrected, the teeth can hurt for certain periods of time. However, in terms of speed and efficiency, these braces will be able to adjust almost any configuration of teeth to a perfect smile.
I am worried about my child's teeth, is there any treatment available?
If you need braces in Kings Hill for your child, then we will be able to help. Some dentists may be unavailable to treat any children below the age of six or even older, however our practice will be happy to have them in for a consultation and give advice on what is the best course of action for them. Led by our very own Dr Yasmin George, her consultation will be able to assess the source of the problem, and whether the problem is a dental or behavioural, such as thumb sucking. However, if the problem is an orthodontic one, then we will not hesitate to provide the treatment for which we have received fantastic feedback from parents. If you need advice or treatment regarding braces in Kings Hill, then One Smile Oral Care will be able to assist you with anything that you may require. Contact us via our website and make sure to come in for a consultation.