Restorative procedures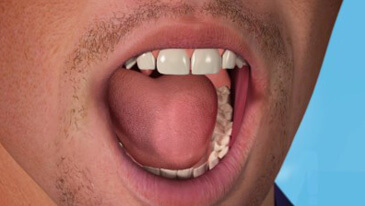 White Resin Fillings
A dental restoration or dental filling is a dental restorative material used artificially to restore the function, integrity and morphology of missing tooth structure. The structural loss typically results from caries or external trauma.
Dental composites
Dental composites are also called white fillings. These materials are similar to those used in direct fillings and are the colour of your tooth. Their strength and durability is not as high as porcelain or metal restorations and they are more prone to wear and discoloration.
Many people still have silver/mercury fillings in their mouths from years past. These fillings are not particularly pleasing to the eye, and we know that by unavoidable design, silver/mercury fillings ultimately result in a weaker tooth structure. Porcelain inlays and tooth-coloured restorations create fillings that are not only beautiful (or unnoticeable), but also add strength to weakened teeth that has been exposed to a lot of decay. These restorations are aesthetically pleasing and very strong thanks to new bonding technologies.
Advantages of Tooth-Coloured Restorations
There are many advantages to tooth-coloured restorations. Resin onlays are bonded to the teeth creating a tight, superior fit to the natural tooth. Such restorations can be used in instances where much of the tooth structure has been lost. The tooth remains intact and stronger.
Since the resin used in tooth-coloured restorations contain fluoride this can help prevent decay. The resin wears like natural teeth and does not require placement at the gum line, which is healthier for your gums!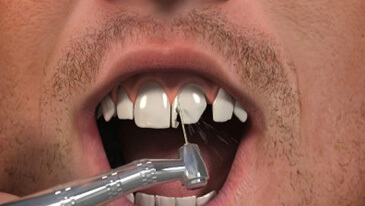 Crowns
Where damage to a person's teeth is extreme, and apparently beyond repair, we can use porcelain or porcelain "fused on gold" crowns to make the smile appear "as new". These treatments are used for a long lasting correction of major dental problems. It is usual for these treatments to last for 20 to 30 years, which is as close to permanent as dental treatment can get.
We use the latest technology to reduce the discomfort to our patients and to offer them a single-day restoration visit.
Chairside Economical Restorations of Esthetic Ceramic or CEREC® for short is a new state-of-the-art method of reconstructing tooth restorations. CEREC® uses computer-assisted design (CAD) and computer-aided manufacturing (CAM) to offer single-day restorations for patients. This new technology has revolutionized ceramic restorations such as crowns and veneers for patients so that there is no longer a wait between preparing the restoration and finally receiving the finished product. With CEREC®, the technology is used while you are sitting in the dental chair. The restorations created are metal-free and tooth coloured to restore your tooth to its natural beauty, strength and function. With CEREC®'s CAD-CAM technology, these ceramic restorations can all be done in one single visit to the dentist.
Key Benefits of a Crown
Replaces missing teeth
Offers support to misshapen teeth or badly broken teeth
Looks completely natural
Fixes "smile" and functional chewing problems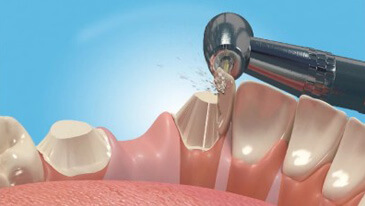 Fixed Bridges
A bridge — a device used to replace missing teeth — attaches artificial teeth to adjacent natural teeth, called abutment teeth. Fixed bridges are applied by either placing crowns on the abutment teeth or by bonding the artificial teeth directly to the abutment teeth.
If you're missing one or more teeth, you may be aware of their importance to your appearance and dental health. Your teeth work together for many daily functions from eating to speaking. With missing teeth, it's difficult to do these things. Missing teeth can and should be replaced. Fixed bridges are a great way to restore your dental health and appearance.
Why do I need a bridge?
Oral functionality and appearance are important reasons for wearing a bridge. A bridge helps support your lips and cheeks. The loss of a back tooth may cause your mouth to sink and your face to look older.
Dental health is the most important reason for a bridge. Teeth were designed to complement each other. Unusual stresses are placed on the gums and other oral tissues when teeth are missing, causing a number of potentially harmful disorders.
Increased risk of gum disease has proven to be one of the worst side effects of missing teeth and can be minimized with a bridge.
Missing teeth can cause speech disorders as they are used to make many of the sounds we use to speak clearly.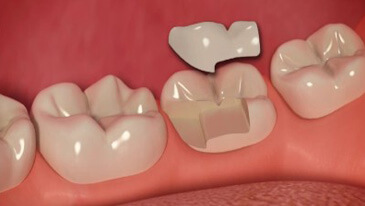 Inlays / Onlays
What are inlays and onlays?
Inlays and onlays can be made of porcelain, gold, or composite resin. These pieces are bonded to the damaged area of the tooth. An inlay, which is similar to a filling, is used inside the cusp tips of the tooth; an onlay is a more substantial reconstruction, similar to the inlay but extending out over one or more of the cusps of the tooth. They are suggested by a dentist when over ½ of the tooth's biting surface is damaged.
Traditionally, gold has been the material of choice for inlays and onlays. In recent years, however, porcelain has become increasingly popular due to its strength and colour, which can potentially match the natural colour of your teeth.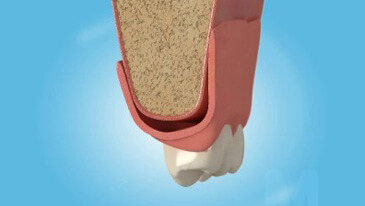 Dentures
A denture, is an appliance that is inserted in the mouth, replaces natural teeth and provides support for the cheeks and lips. Most dentures are made of acrylic and can be fabricated two different ways. There are two types of dentures: complete dentures and removable partial dentures.
Complete Dentures
Whether you have lost all of your natural teeth from periodontal disease, tooth decay, or injury, replacing your missing teeth will improve not only your smile but as well as your overall appearance and health. Without the support provided by a complete denture, facial muscles can sag, therefore causing a person to look older. With a denture, you will be able to eat and speak confidently once again. There are several types of complete dentures:
A conventional denture is made after all teeth have been extracted and the tissues (gums) have healed.
An immediate denture is fabricated and inserted immediately after the teeth are extracted and the tissues are allowed to heal under the denture.
The teeth are made of plastic, porcelain or a combination thereof.
Dentures can be fabricated to fit over endodontically treated teeth and a complete denture can be attached to dental implants to allow for a more secure fit of the appliance.
Removable Partial Dentures
Removable partial dentures usually consist of replacement teeth attached to pink or gum-coloured plastic bases, which are connected by metal framework. Removable partial dentures attach to your natural teeth with flexible, gum coloured clasps Consult with our doctors to find out which type is right for you.
Case studies
Case 1