Endodontics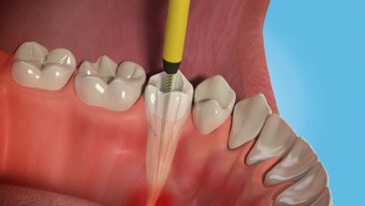 What is a root canal?
A root canal is one of the most common dental procedures performed, well over 14 million every year. This simple treatment can save your natural teeth and prevent the need of dental implants or bridges.
At the centre of your tooth is pulp. Pulp is a collection of blood vessels that helps to build the surrounding tooth. Infection of the pulp can be caused by trauma to the tooth, deep decay, cracks and chips, or repeated dental procedures. Symptoms of the infection can be identified as visible injury or swelling of the tooth, sensitivity to temperature or pain in the tooth and gums.
How is a root canal performed?
If you experience any of these symptoms, your dentist will most likely recommend non-surgical treatment to eliminate the diseased pulp. This injured pulp is removed and the root canal system is thoroughly cleaned and sealed. This therapy usually involves local anesthesia and may be completed in one or more visits depending on the treatment required. Success for this type of treatment occurs in about 90% of cases. If your tooth is not amenable to endodontic treatment or the chance of success is unfavourable, you will be informed at the time of consultation or when a complication becomes evident during or after treatment. We use local anaesthesia to eliminate discomfort. You will be able to drive home after your treatment, and you probably will be comfortable returning to your normal routine.
What happens after treatment?
After getting a root canal therapy procedure done, we suggest placing a crown. This is necessary to provide a major form of structure to the already weakened tooth.
Results
Root canal treatment is usually successful at saving the tooth and clearing the infection.
One review of a number of studies found that 90% of root-treated teeth survived for 8-10 years. The study also found that having a crown fitted to the tooth after root canal treatment was the most important factor for improving tooth survival rates.
If you practise good oral hygiene, your treated tooth should survive for a long time. The survival of your tooth depends on a number of factors, including:
how much of the natural tooth remains
how well you keep your teeth clean
the biting forces on the tooth
If an infection does return, however, the treatment can be repeated. Alternatively, if treatment has already been carried out to a high standard and the infection remains, a small operation to remove the root tip (an apicoectomy) may be carried out to treat the infection.
Apicoectomy
Usually, a root canal is all that is needed to save teeth with an infected pulp from extraction. In some cases, this non-surgical procedure will not be enough to heal the tooth and the doctor will recommend surgery. The most common surgery used to save damaged teeth is an apicoectomy. This form of endodontic surgery can be used to treat things such as micro-fractures or hidden canals, damaged root surfaces, or its surrounding bone.
An apicoectomy starts with an incision that is made in the gum tissue to expose the bone and surrounding inflamed tissue. The damaged tissue is removed along with the end of the root tip. A root-end filling is placed to prevent reinfection of the root and the gum is sutured. The bone naturally heals around the root over a period of months.