The Dentists
All our dentists adhere to the strict guidelines governing the profession under strict guidance from the General Dental Council (GDC) "Standards for Dental Professionals".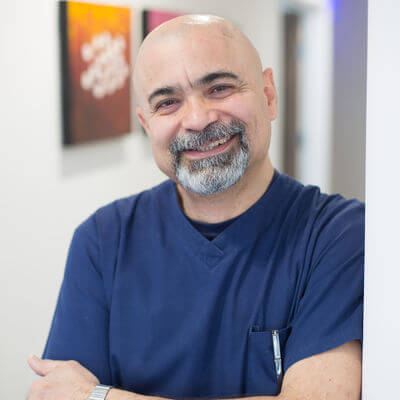 Ben Mortazavi
(DDS) Doctor of Dental Science
Principal Dentist/ Registered Manager
GDC No. 77310

Ben aspires to maintain natural teeth for life which is why he provides the highest quality oral care and offers a wide range of general and aesthetic treatments.
Ben and his team returned to Kent where he previously looked after 7500 patients for many years before opening two further practices. With his return he has invested in the first iPlus Water Laser in Kent. It is minimally invasive with very low risk of cross contamination between patients.
---
Dr Neda Hojjat
Dental Surgeon
GDC No. 276719
DR.Neda is a qualified dental surgeon. She received her DDS in 2009 and completed her master's degree in Dental science for clinical practice from Queen Mary university in 2015. She was awarded the Royal College of Surgeons of England License in Dental Surgery (LDS RCS Eng). She is a clinical lecturer at Barts and the London school of medicine and dentistry. Neda believes in minimally invasive dentistry and using your own teeth to give you a natural smile. She enjoys carrying on Restorative and Cosmetic dentistry. She uses a combination of techniques, including tooth whitening (Zoom and Enlighten), composite bonding, composite veneer, short term orthodontic treatment like Invisalign and clear correct and gum recontouring to correct and perfect your smile. Neda is also qualified in facial aesthetics treatments including dermal filler and Botox. She believes in pain free dentistry and her patient nature allows her to make your visit as comfortable and pleasant as possible. Outside work, Neda enjoys spending time with her friends and family.
---
Dr James Dodd
Dentist
GDC No. 76580
James qualified in 1999 from Kings College Dental School and started out in Maidstone where he received a sound grounding in general dentistry from a highly experienced vocational mentor.
In 2004, he moved to a private practice in Petts Wood and still continues to look after many patients from there after many years.
Wanting to work closer to home and wishing to embrace fresh challenges, James joined the One Smile team in 2021.
He aims to provide dentistry of the highest standards focusing on predictability and solutions.
Special Interests
In 2012, James completed a postgraduate diploma in root canal treatment at the Eastman Dental Institute and manages our in-house referrals for complex root canal treatment.
James is committed to advancing his skills and depth of knowledge and is in the process of completing a further postgraduate programme at the Eastman in Restorative Dentistry, with a view of staying on for a third qualification in Implant Dentistry. He has a strong interest in being able to provide holistic all round care and is happy to take on more complex cases.
One of the reasons James joined One Smile is he is passionate about using laser technology. The Epic X and waterlase are some of the most advanced and powerful lasers in dentistry at present that can be used to enhance treatment outcomes and patient comfort.