The Dentists
All our dentists adhere to the strict guidelines governing the profession under strict guidance from the General Dental Council (GDC) "Standards for Dental Professionals".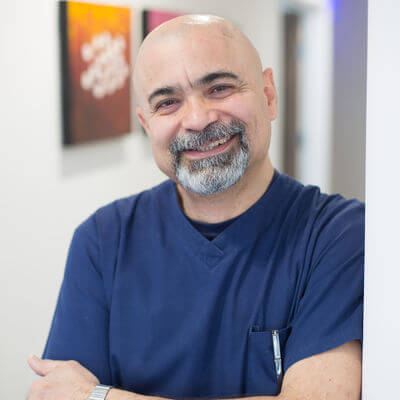 Ben Mortazavi
(DDS) Doctor of Dental Science
Principal Dentist/ Registered Manager
GDC No. 77310

Ben aspires to maintain natural teeth for life which is why he provides the highest quality oral care and offers a wide range of general and aesthetic treatments.
Ben and his team returned to Kent where he previously looked after 7500 patients for many years before opening two further practices. With his return he has invested in the first iPlus Water Laser in Kent. It is minimally invasive with very low risk of cross contamination between patients.
---
Yasmin George
BDS Dental Science
Dentist with a special interest in Orthodontics
BDS Lond 1988

Yasmin qualified in 1988 from Guy's Hospital Dental School in London. Since then she has worked in general practice, which means she has had a great deal of experience in many different areas of dentistry, treating patients from all walks of life.
She has been involved in cosmetic dentistry for many years and finds it one of the most exciting and rewarding aspects of being a dentist. She is delighted to see how happy patients look when they've achieved their perfect smile, and is proud that what she does can actually help someone grow in confidence or smile for the first time with their teeth on show.
Yasmin believes that her patients should make informed choices about their treatment, so she provides as much information as possible and always tries to be both honest and realistic.
Yasmin has a particular interest in orthodontics for both adults and children.
For adults her treatment skills include "invisible" braces such as those fitted to the inside of the teeth, (lingual braces) or those made of transparent materials such as Invisalign. Yasmin also has considerable experience with Damon braces for adults and can do 'limited' or partial treatment options; these are often popular with adults as treatment is quicker.
For children she is passionate about the need to be assess and where appropriate, treat early, also to take into consideration the development of the whole face. If you're a parent, you may also be pleased to know that she has two sons so she fully understands how important your children's teeth are to you, and how difficult it can be to make sure they clean their teeth properly and avoid eating too many sweets!
Throughout her career Yasmin has taken every opportunity to develop her skills. This has included taking many training courses and attending conferences in the UK and abroad; joining and serving in a number of Dental Academies, Associations and Societies; teaching at King's College Faculty of Dentistry, at the Pankey Institute in Florida, and sitting on the Panel of Examiners for the Certificate in Dental Sedation Nursing and the National Examination Board for Dental Nurses. Most recently she has been involved in the development of continuing education in orthodontics for general dentists, working with internationally recognised orthodontic specialist and educator Dr Derek Mahony, BPP University and the Academy of Dental Excellence (ADE).
Yasmin offers her patients the best products and techniques and the most up-to date treatments and skills. However don't just take our word for it – please listen to some of the patient testimonials on her website: www.confidentsmiles.org then get in contact and find out for yourself!